About
I have been wire-wrapping on and off for more than 10 years, and recently found renewed passion for it.
I am particularly interested in faceted semi-precious stones… the colourful gems that make a girl's heart beat faster and her eyes twinkle. At least they do have that sort of effect on me!
And, it's the perfect excuse for me to buy more stones.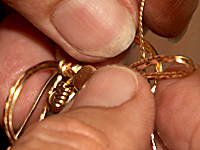 Cabochons, and tumbled stones, even shells catch my eye at times, and lately I have been absorbed in cutting, rubbing (sanding), polishing, rubbing a bit more, polishing again… (did I mention rubbing?) to find the colour in pieces of Boulder Opal. It can be very rewarding, but, at times, very frustrating. And they are pretty… especially when you find a piece with "internal lights" that catch the light.
This is a hobby for me – as evidenced by the prices – but I am very keen that the people who do buy my pieces (customers) are happy with their purchase. I go to a lot of trouble to ensure I desribe each piece accurately – even getting a qualified jeweller to confirm I have identified the stones correctly – and I try to take clear photographs of the front and the back of each piece. They're all one-offs. While I might repeat a pattern, they never turn out exactly the same, even with a nearly-identical stone, so each piece is photographed individually, and the piece you see in the photograph is the piece you're buying.
Please let me know how you feel about your purchase… write a review on the Feedback page, even take a photograph if you like.
Every piece is sold in good faith. I do everything within my power to ensure I do not make the mistake of labelling artificial stones as "genuine". Those few pieces I have offered as "genuine" are pieces seen by a qualified jeweller (who thinks I price my work way too low!!) and verified as being genuine stones. If you are at all unhappy with any aspect of your purchase, please contact me and I will do my utmost to make it right for you.